This NEW GENERATION mascara perfect for revealing intense, amplified runway lashes. Its unique formula lengthens, volumizes, lifts and curls lashes while argan oil conditions and protects. The unique flat curved brush hugs every lash, revealing beautifully amplified lashes that are smudge, flake and clump free. Paraben-Free
Before & After: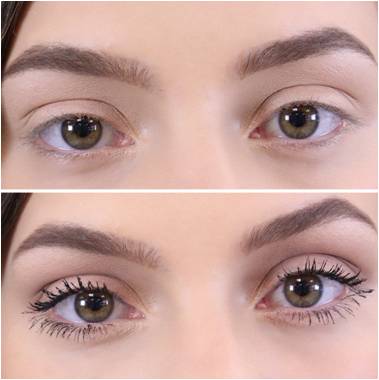 Argan Oil: Conditions and protects lashes. Keeps lashes flexible and flake free.
What we love about it: Fuller, intense, longer lashes Smudge, flake and clump free
Application: To amplify volume and thickness, use wand curve side up, from root to tip. To add length and separation to lashes, use the wand curve side down from root to tip, directing lashes where you want them to go.
Tips and Tricks: For amplified length and volume, use both techniques between coats for best results.
Write a Review
K
Katie





Staple!
I stopped looking for other mascaras after this one. It does amazing work to my short and sparse lashes. I heard that the 2 sides of the mascara wand are designed for length and volume. I personally look for length and usually only use one side of the wand. But if you really want to build up your lashes, use both sides!
M
Michelle





Love it!
My go to mascara! The curved brush really grabs your lashes for amazing volume and length.
C
Chloe





My one and only
This is the only mascara I have been using and will continue. My lashes are never stiff or flake. It last all day without any smudging... for real! I would recommend.
C
Christine





best mascara!
I absolutely love this mascara and have spent a lot of time and money trying to find one I loved that had everything I was looking for. This mascara is a great price, lasts a while, and gives me long, voluminous lashes in a short amount of time!
C
Cindy





OMG favorite mascara found
I've been searching for good mascara for long. I have short lashes, and this mascara definitely saves my life! It makes my lashes look so long, and it doesn't smudge on my lids by the end of the day.
L
Linda





Loving my lashes!
Totally in love with this mascara. A must-have!
N
Nicole





Love It
This is the only mascara I use! Absolutely love it!!
K
Katherine Ledesma





MY EYELASHES ARE ALWAYS ON POINT!!!!
I absolutely love this mascara! I am a heavy eyelash look, kind of gal. But, I was always a bit nervous about doing more harm than good because of all the mascara I had to layer on. But, not anymore! This mascara is EVERYTHING! The Argan Oil protects my lashes, plus, I still get my desired look!!
L
Lucy





Love love love
This was purchased during the ABS show in Chicago and I absolutely adore this! Will be purchasing more. Game changer.